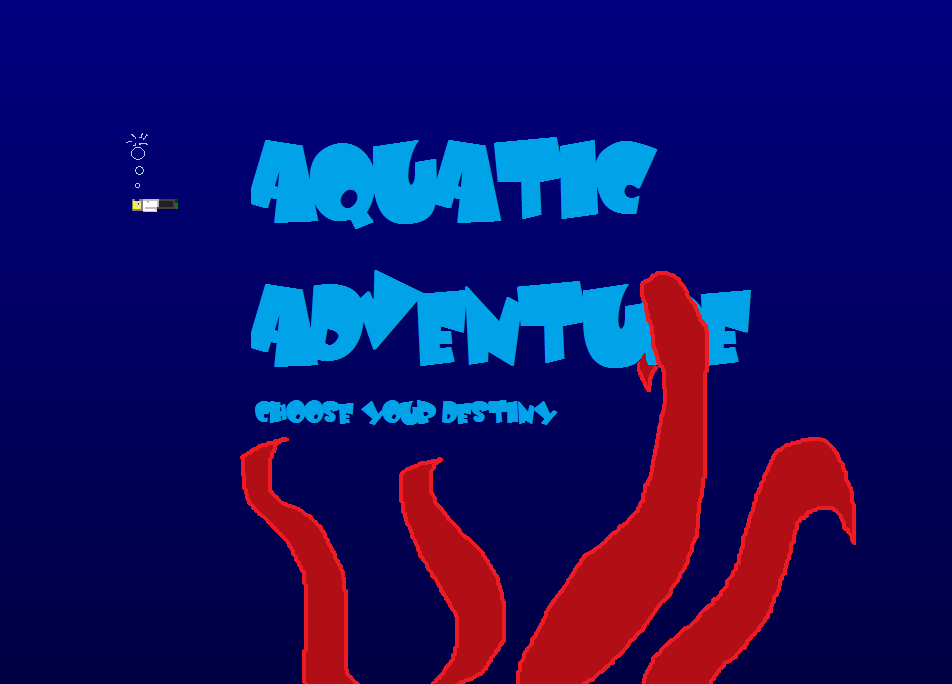 Aquatic adventure
A downloadable game for Windows
PLEASE TAKE YOUR TIME TO READ THIS THROUGH

THERE IS A LOT OF IMPORTANT INFORMATION BELOW

There is an object. It is floating down into the deepest depths of the ocean where all things forgotten go. This object looks like a living being. A humanoid. A human. That is you. You seem to be reaching the sea bed. Your falling stops, and you wake up. While rubbing your head, you look up and look around wondering: Where on earth am I? With no memory of your history, or why you are down here, you must survive, thrive and explore the deepest parts of the deep blue sea. This, my friend, is Aquatic adventure.
Aquatic adventure is a game that Cybrog has been developing for 2 years now, and is now in early access for you to play. Your character's name is Jo and you must help him decide what to do in this vast blue ocean. Its up to you. You can build the biggest house, explore for ancient ruins, search for rare materials, go and study different fish or go on a journey to fight the most vicious creatures of the waters. So basically, there are no limits. Literally, this game goes on for infinity. AWESOME!!!
This game has been rated 9/10 and 10/10 by some players that we let test the game. But remember, there are still a lot of features to be added and bugs to be fixed. This is still in alpha after all. But don't worry, we will be trying to add updates as frequently as possible to fix these things. Here is what we'll be aiming for in the next update:
1. Saving and loading the game
2. Fixing that the building system doesn't start to spread anywhere but vertically, due to chunk height differences.
3. New materials for building
4. New items
5. More ancient ruins
7. More fishies

6. More bug fixes
So that is what we will be aiming for in the next update. And before we finish up, we would recommend that you buy the game soon if you want it because we will be gradually putting the price up. But don't worry if you haven't bought it and the price is going higher, don't worry, we won't be planning to rise it up to over 10 pounds.
THANKS FOR TAKING YOUR TIME TO READ THIS. WE HOPE YOU ENJOY THE GAME!

:)

Press a and d to move around

Press space to jump

Shift to open inventory

Right click to break

Left click to build

Purchase
In order to download this game you must purchase it at or above the minimum price of £4.99 GBP. You will get access to the following files:
Aquatic adventure installer.exe
24 MB